Republic Day 2019: Diversity of India seen on Rajpath, 10 big things to know parade
On the occasion of the 70th Republic Day, a glimpse of India's rich cultural heritage and traditions in the national capital. The world including the countrymen saw the theme of the Republic Day was Mahatma Gandhi because this year also is the 150th birth anniversary of Mahatma Gandhi. While the Indian Army demonstrated its military power, women power also introduced their indomitable courage. Prior to the parade, Prime Minister Narendra Modi paid tribute to the soldiers who sacrificed their lives for the country by visiting Amar Jawan Jyoti. On Rajpath, the PM welcomed President Ramnath Kovind and President of South Africa Srivastava Ramphosa. President Covind hoisted the tricolor After this, the national anthem came and Field Regiment gave 21 gun salute.
Table of Assam Rifles: Assam Rifles participated in the Republic Day Parade for the first time in history. The female power was shown in the tableau of the rifle. Women's squad marched on the tunes of Assam Rifle soldiers, we increased the country's spirit. This squad was led by Major Khushbu Kanwar.
Table of CISF: Central Industrial Security Force (CISF), who is celebrating 50 years dedicated to the nation, has participated in the parade after 11 years interval. In her tableau she was shown the role of women in her various works and security forces. The CISF has the highest (6%) women in all paramilitary forces.
INA soldiers: For the first time, the Indian National Army (INA) soldiers took part in the Republic Day. All the soldiers marched on the tone of the catalyst in the development of the nation: veteran soldier. All the soldiers who came to take part in the parade were over 90 years old.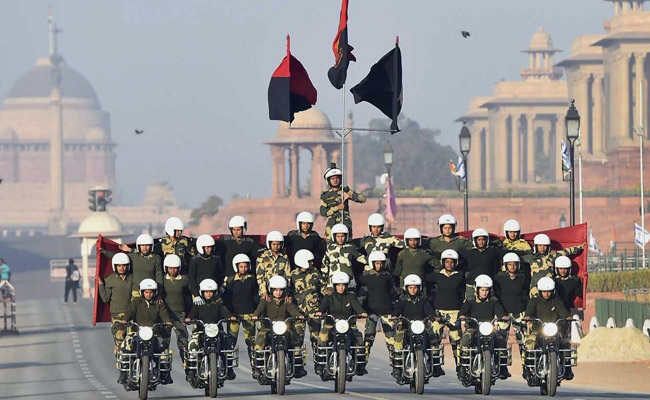 Table of the States: Mountains of Sikkim, Andaman and Nicobar Islands, Goa, Punjab, Tamil Nadu, Jammu and Kashmir, Uttarakhand, Uttar Pradesh, Gujarat, West Bengal and Tripura were shown on Rajpath on the occasion of Republic Day. The theme of all was Mahatma Gandhi. Cellular gel was shown in Andaman's Table, where Mahatma Gandhi was kept in captivity.
India demonstrated its fierce power on Republic Day. T-90 tank, Balve Machine Picket (BMP-II / II), Surface Mine Clearing System, 155 mm / 52 caliber tracked self-propelled guns (K 9 vajra), transpondable satellite terminal, trup level radar and sky weapon system Appeared in parade